THIS PAGE WAS LAST UPDATED 11th July 7.00 a.m.):
(Please note that because things are still not normal this homepage along with the page for Prayer and Reflection are the only pages being updated on this site at the moment. All current information you require is on this page.)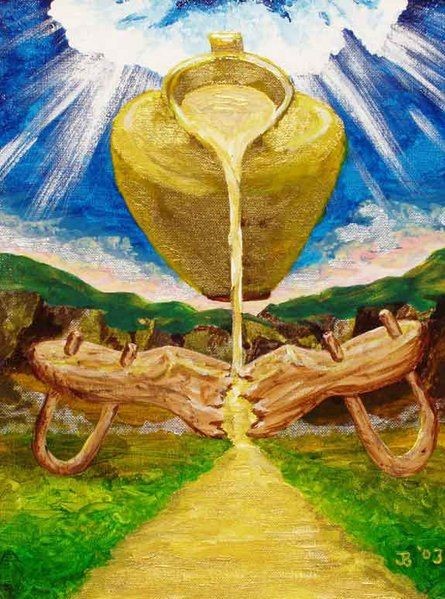 Lord, I bring to You my burdens and You know my situation. You know I can't make it without You. Comfort my heart, give me strength, and help me carry on. Amen
Quote of the day, Saturday 11th July
" The highest reward for a person's toil is not what they get for it, but what they become by it." - John Ruskin
## PLEASE READ THIS IMPORTANT UPDATE ## Brian has written to detail the when and how of our churches re-opening. It gives dates and times and some details of the format of services. You can read the letter here and the main points are reproduced below.
RE-OPENING DETAILS FOR OUR CHURCH BUILDINGS
ST GORAN: Services of Holy Communion will start up again from Sunday July 12th at 10.15 a.m. These will be based on Common Worship. There will currently be no service in Church on a Wednesday morning but there will still be a service using ZOOM. Invite details can be obtained from Brian.
From Sunday July 12th the church will be open for private prayer on each Sunday and Wednesday between 10.00 a.m. and 2.00 p.m.
ST JUST: The church will be open for private prayer on each Monday and Thursday between 10.00 a.m. and 2.00 p.m. from Thursday July 9th. The church will remain closed for public worship for the moment.
ST MICHAEL CAERHAYS: The church remains CLOSED for the time being.
All these opening times will be under constant review. Please see Brian's letter for further details here
PLEASE NOTE COVID SAFETY PROCEEDURES WILL BE IN PLACE DURING ALL OPENINGS OF OUR CHURCHES.
Please continue to read the urgent updates from the Diocese and other important messages and useful internet links on COVID 19 on this homepage that have been updated on the 9th July. Also included are letters and reflections from our Priest, Brian, and don't forget we now have a facebook page. Brian is available at his desk most weekday mornings if you need to contact him and at weekends in emergency situations: (01726 430857) E-MAIL: revmcq@gmail.com
Please also note that below are various sources for prayer and an order of service to follow for Sunday July 12th which is Sea Sunday if you are not able to attend church.
USEFUL LINKS DURING THE CORONAVIRUS PANDEMIC
GOVERNMENT PRESS RELEASE ON RE-OPENING OF CHURCHES June 9th
LATEST GOVERNMENT CORONAVIRUS UPDATE AND GUIDANCE FOR CHURCHES June 12th
CHURCH OF ENGLAND STATEMENT ON RE-OPENING OF CHURCHES June 9th
LETTER FROM BISHOP PHILIP 6th May (Gradual opening of churches - Phase 1) CLICK HERE
BBC LATEST NEWS CLICK HERE
BRIAN'S UPDATES Churches' re-opening Churches re-opening 2 July 10th
NHS 111 ON-LINE CLICK HERE
NHS111 CORONAVIRUS PAGE CLICK HERE
CORNWALL COUNCIL CORONAVIRUS PAGE (Gives links and contacts for many issues) CLICK HERE
CORONAVIRUS PAGE ON THE CHURCH OF ENGLAND WEBSITE - CLICK HERE
COVID 19 PAGE OF DIOCESE OF TRURO WEBSITE CLICK HERE
GORRAN HAVEN WEB SITE FOR LOCAL UPDATES CLICK HERE
THE HAVEN CHIP SHOP MENU, TUES-SAT 5-8 p.m. (01726 843555) CLICK HERE
LOCAL UPDATES FROM MICHAEL BUNNEY July 6th
IF ANY PARISH RESIDENT REQUIRES HELP DURING THE CURRENT CORONAVIRUS PANDEMIC PLEASE EMAIL
stgorranpc@btinternet.com OR michaelbunney84@gmail.com
OR PHONE OR TEXT MICHAEL BUNNEY 07939457590
DIOCESE OF TRURO
GUIDANCE ON RESPONDING TO THE CHALLENGES POSED BY THE CORONAVIRUS OUTBREAK
LATEST CORONAVIRUS UPDATES ON 09.07.20
Dear friends
I hope you are well and finding your way, as you look to reopen your churches for private prayer and for public worship, and also maintain some of the 'virtual' forms of ministry upon which we have come to rely over the past three or four months. The pace of change has been relentless, we all know, so I hope you are planning at least a staycation over the summer and some time away from the email!
We have had a few inquiries from parishes who are unable to fulfil the normal requirement of holding Morning Prayer, Evening Prayer and a celebration of Holy Communion in at least one church in each benefice on all Sundays and certain feast days. Fear not - there is provision in the guidance for such a scenario, and you do not need to ask permission of Bishop Philip. The guidance, found here, states:
Q. What if there are particular problems that mean a church is not ready for public worship?

A. If there are particular local circumstances which mean that it is not reasonably possible to comply with the Government guidance for the safe conduct of public worship in any of the churches in the benefices from the 4th July, there are two potential solutions.

1. Where the problem is likely to last for no more than a few weeks

If it is likely to be only a matter of a few weeks before at least one church in a benefice may be able to hold the normally required public services then the matter can be dealt with by the minister and each of the PCCs without the need to consult the bishop. The minister and the PCC(s) should set out the arrangements in a formal a resolution. This can be done by email using the Church Representation Rules.

It is recommended that the resolution(s) of the PCC(s) take(s) the following form:

"The [rector] [vicar] [priest in charge] and the parochial church council of [name of parish] acting jointly authorise dispensing with the reading of Morning and Evening Prayer as required by Canon B 11 and the celebration of the Holy Communion as required by Canon B 14 on the following occasions:

Sunday 5th July 2020

Sunday 12th July 2020 etc.

The reason for the dispensation is that in the light of the Government's guidance on preventing the spread of Coronavirus, there is no church in the benefice which can be used safely for public worship on those occasions."

If some services can go ahead but others cannot, the resolution may be edited accordingly. For example, where Morning and Evening prayer will be possible and Holy Communion will not the reference to Morning and Evening prayer should be removed. Where Holy Communion may be possible on certain Sundays but not on others it can be edited in respect of this as well.

There is no need to inform the bishop that you have passed this resolution, it is enough simply that you have done so.
As we are moving slowly from the generalised lockdown to a position of fewer restrictions, it seems likely that most churches unable to fulfil the normal requirement will fall into this category. The bishop's permission is only required if the services can't be held for an extended period of time. (A draft resolution for this situation is also included in the guidance if you follow the link).
Yesterday, new guidance (here) was issued on ordinations and consecrations, and I am sure that our Episcopal College will be considering how we will be able to move forward with ordinations of our own in the light of that. Some very good news is that our new Bishop of St Germans, Revd Hugh Nelson, will be consecrated at Lambeth Palace on Wednesday next week. I plan to publish a more detailed piece about that on the diocesan website tomorrow, and will put it on the diocesan Facebook page also.
The Recovery Group also published updated guidance on individual prayer in church buildings, here.
I think that is all for now. Bishop Philip and Ruth will continue to host their all-age worship event on the Truro Diocese Facebook page on Sundays at 0930, and a group of us are now looking at how that provision might be sustained, and also provide links to parishes. We obviously need to consider how we can keep the best bits of what we have learned in the past few months, without everybody trying to do twice as much as before!
As ever, if you do have questions regarding the guidance, please direct them in the first instance to your archdeacon.
And if there are people in your parishes who are on this distribution list, but who are not on email, I would be very grateful if you could please pass on this information.
With thanks and all best wishes,
Richard Best
––––––––––––––––––––––––––––––––––––––
Remember
Pray for those who are unwell.

If you think you might have coronavirus, contact NHS 111 for help and advice.

Use tissues for coughs and sneezes, and bin them right away.

Wash your hands a lot.
On this site you can find information on the following:-
Events

Services

Weekly Notice sheet -

Weekly notices and Dates for your Diary

Your Churches and You - How you can use the Church for your special occasions, Christenings, weddings, funerals. Includes instructions on booking the West End rooms at St Goran for any events.

Calendar

Church News - News in and around the churches

Parish Nurse - What a Parish Nurse does and how she can help you.

Church Groups - A section on regular group meetings within the church including a section on "The Friends of St Goran, St Just, and St Michael, Caerhays" with details on how you can become a Friend.

Time for prayer - a time for your reflection

Church Documentation - Documents held by the church that you can read or download.

How to contact us - including active maps of where we are

Our Churches' Histories - A brief history of each of our beautiful buildings

Other features including photo galleries of each of our churches and some events.
Just click on the appropriate tab and help us to help you.
#######################################################################################################################
Safeguarding statement
Ensuring that children and young people as well as adults are kept safe whilst in our care is an integral part of our church life. If you have any concerns about safeguarding please contact:
In the Parish: Graham Downes, Parish Safeguarding Co-ordinator, Tel contact – 01726 842423
In the Diocese: Sarah Acraman Diocesan Safeguarding Adviser, 01872 274351
Out of Hours for after 5pm and weekends: 01208 251300
In emergency situation:
Local Authority Children's Social Care: 0300 123 1116
Local Authority Adult's Social Care: 0300 1234131
#####################################################################################################################################
Privacy statement
Any personal data held by the Church is treated with respect and is valued. We comply with UK Personal data law. If you want to see our Privacy Policy then please click the link below:-
Privacy Policy
Data Breach Procedure