THIS PAGE WAS LAST UPDATED 23rd November 7.30 a.m.
(Please note that because things are still not normal this hom4epage along with the page for Prayer and Reflection are the only pages being updated on this site at the moment. All current information you require is captured on this page
LATEST UPDATES (Scroll down to view)
Service for Christ the King with additional Reflection (November 22nd)
New update from Brian dated November 19th
Update to opening times for our church buildings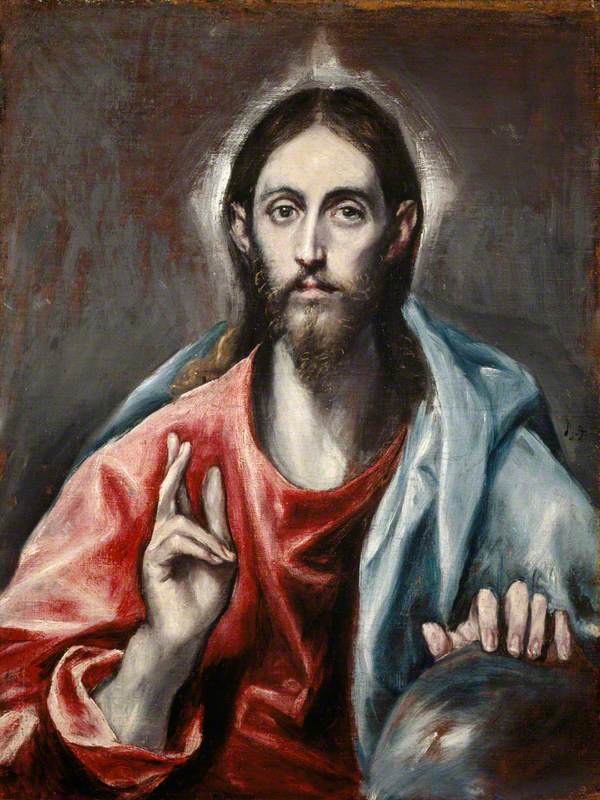 Stir up, O Lord,
the wills of your faithful people;
that they, plenteously bringing forth the fruit of good works,
may by you be plenteously rewarded;
through Jesus Christ our Lord.
Painting – Christ blessing - The Saviour of the World – El Greco
Quote of the day, Monday 23rd November
" Worry does not empty tomorrow of its sorrow. It empties today of its strength." - Corrie Ten Boom
OUR CHURCH BUILDING OPENING TIMES DURING THE PANDEMIC
ST GORAN: The Church is currently closed.
ST JUST: This building is not open for public worship. It is however open for private prayer and reflection on each Monday and Thursday between 10.00 a.m and 2.00 p.m.
ST MICHAEL'S CAERHAYS: This church is not open at present.
Please note that these opening times are under constant review
For all the openings of our churches we follow the COVID safety advice of Government and Diocese so use of hand sanitiser, social distancing and the appropriate use of face masks is requested. There is an on-line service provided for each Sunday ( see below) as well as links to other pages for reflection. There are also other links for use during the pandemic.
SERVICE FOR CHRIST THE KING, Sunday November 22nd, CLICK HERE O Worship the King All hail the Power of Jesus' name
BRIAN'S REFLECTION FOR CHRIST THE KING, Sunday 22nd November: Christ the King
PAGE FOR PRAYER AND REFLECTION CLICK HERE
Church of England Coronavirus Prayer page CLICK HERE
.
USEFUL LINKS DURING THE CORONAVIRUS PANDEMIC
LATEST GOVERNMENT CORONAVIRUS UPDATE AND GUIDANCE FOR CHURCHES CLICK HERE
BBC LATEST NEWS CLICK HERE
BRIAN'S UPDATES Nov 19th
SARAH'S LETTER Nov 2nd
LINK TO SARAH'S FACEBOOK PAGE (You will need a facebook account to read) CLICK HERE
NHS 111 ON-LINE CLICK HERE
NHS111 CORONAVIRUS PAGE CLICK HERE
CORNWALL COUNCIL CORONAVIRUS PAGE (Gives links and contacts for many issues) CLICK HERE
CORONAVIRUS PAGE ON THE CHURCH OF ENGLAND WEBSITE - CLICK HERE
COVID 19 PAGE OF DIOCESE OF TRURO WEBSITE CLICK HERE
LOCAL UPDATES FROM MICHAEL BUNNEY Nov 2nd
LETTER FROM ARCHBISHOPS AND BISHOP OF LONDON DATED 1ST NOV CLICK HERE
IF ANY PARISH RESIDENT REQUIRES HELP DURING THE CURRENT CORONAVIRUS PANDEMIC PLEASE EMAIL
stgorranpc@btinternet.com OR michaelbunney84@gmail.com
OR PHONE OR TEXT MICHAEL BUNNEY 07939457590
DIOCESE OF TRURO
GUIDANCE ON RESPONDING TO THE CHALLENGES POSED BY THE CORONAVIRUS OUTBREAK
LATEST CORONAVIRUS UPDATES ON 09.11.20
To: all clergy, PTOs, churchwardens, and readers (on email)
Copy to: all Church House and diocesan staff.
Dear All
Government guidance update
At 5pm yesterday the government updated its guidance for places of worship to reflect the new lockdown Regulations. This includes advice on broadcasting services, involvement of musicians and singers, as well as on support groups, funerals and individual prayer.
The Church of England Coronavirus pages have been updated with a specific guidance note on lockdown which links through to this guidance. There is also an updated Risk Assessment template for the lockdown period which parishes may wish to use to review their existing plans. One thing to note in this is that Public Health England have revised the quarantine period after known exposure to Coronavirus from 72 hours down to 48 hours. This means the period between uses of a building without the need to clean is reduced, so churches that have been using that method to ensure the safety of their buildings may be able to open more often.
It is important to note that, whilst the places of worship guidance applies in most circumstances, other government guidance also has an impact on churches and cathedrals depending on the activity taking place within them. The DCMS guidance on performing arts venues applies if churches or cathedrals are operating as concert or performance halls, and whilst it allows for professional groups to rehearse and perform/broadcast with no audience, non-professional groups are not permitted. All venues are being asked to use their common sense and support the efforts to reduce the spread of the virus as far as they are reasonably able to do so. So if in doubt the question is not how far the law might be pushed but instead: how essential is this activity and does that justify the risks?
All the best,
Audrey
The Ven Audrey Elkington
Archdeacon of Bodmin
–––––––––––––––––––––––––––––––––––––––––––––––––––––––––––
On this site you can find information on the following:-
Events

Services

Weekly Notice sheet -

Weekly notices and Dates for your Diary

Your Churches and You - How you can use the Church for your special occasions, Christenings, weddings, funerals. Includes instructions on booking the West End rooms at St Goran for any events.

Calendar

Church News - News in and around the churches

Parish Nurse - What a Parish Nurse does and how she can help you.

Church Groups - A section on regular group meetings within the church including a section on "The Friends of St Goran, St Just, and St Michael, Caerhays" with details on how you can become a Friend.

Time for prayer - a time for your reflection

Church Documentation - Documents held by the church that you can read or download.

How to contact us - including active maps of where we are

Our Churches' Histories - A brief history of each of our beautiful buildings

Other features including photo galleries of each of our churches and some events.
Just click on the appropriate tab and help us to help you.
#######################################################################################################################
Safeguarding statement
Ensuring that children and young people as well as adults are kept safe whilst in our care is an integral part of our church life. If you have any concerns about safeguarding please contact:
In the Parish: Graham Downes, Parish Safeguarding Co-ordinator, Tel contact – 01726 842423
In the Diocese: Sarah Acraman Diocesan Safeguarding Adviser, 01872 274351
Out of Hours for after 5pm and weekends: 01208 251300
In emergency situation:
Local Authority Children's Social Care: 0300 123 1116
Local Authority Adult's Social Care: 0300 1234131
#####################################################################################################################################
Privacy statement
Any personal data held by the Church is treated with respect and is valued. We comply with UK Personal data law. If you want to see our Privacy Policy then please click the link below:-
Privacy Policy
Data Breach Procedure